Good morning!
Last week seemed busy, I don't know but the week flew by and I felt like there was a lot going on. This week will probably be the same way. I am bummed that last week wasn't a better running week for me nothing seemed to worked in my favor. That is okay though because I get a chance to do better this week! I wonder how many times I said week in the last paragraph?
6
.
So its time for a change. I've been doing Chalean since July and I still really love the whole program but it is time for me to change it up a little bit. If I start getting bored with my cross training then I won't do it and last week wasn't a great cross training week. So I am going to put Chalean away till December and for the next month use my
30 Day Shred
and
6 Week Six Pack
with Jillian Michaels.
I'll post my 90 day results some time this week. I am not expecting anything that great honestly, between tapering and then recovering from the marathon I feel like I've lost some progress. Its been hard to get back into it and my eating...oh man. It would be so much easier if I had self control or just didn't have it in the house but that isn't fair to Jess. So I am going to change up my routine and hopefully get over my burn out. I'll miss you Chalean! But its only good-bye for a short time!
I need some rain gear besides my Portland Running Company Hat. Seriously in need of something to keep me dry, we have had so much rain already this fall. The biggest thing is just a water-proof running jacket. PRC had the new Brooks Women's Nightlife jacket that has lots of reflective strips and built in lights. The drawback is that it costs $85, ouch.
I also need some light so I can see, it is pretty dark out there at 5:30 so I need headlamp or something to help light my way.
I just ordered one that looks like this so we'll see how it works when it arrives!
At the run last Thursday they had some reflective lights for everyone to borrow and Katie tried this reflective vest that I thought would be a great piece to have.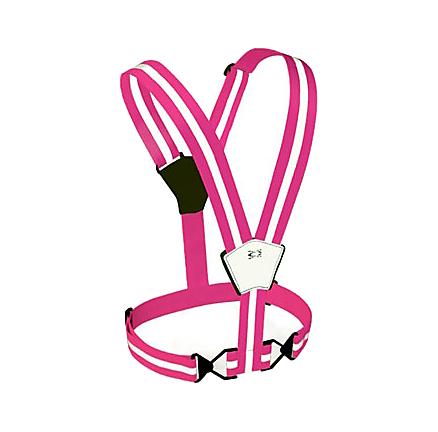 So besides a new pair of shoes that I am due for those are my 3 must haves for my running in the rain and cold this fall and winter. My headlamp is on its way and I am on the hunt for a jacket that will keep my dry and out of the soup kitchen.
Do you have any must-have gear for your runs?
Anyone else out there use a headlamp of some sort when running in the dark?
What did you do this weekend?!
Did you run any Halloween races?!