Good Afternoon! I hope your Friday the 13th has been lucky! I bought fudge pops and got my free Starbucks Refresher so all in all its been a pretty awesome Friday the 13th. Plus it is absolutely beautiful outside, going to be blowing up our pool ASAP!
Last night I sauteed up some zucchini with onions and topped with a little parmigiana cheese, ya they were really good. Jess even ate them, he doesn't eat anything green.
Once I am off of my computer and being productive again I am going to make these bad boys.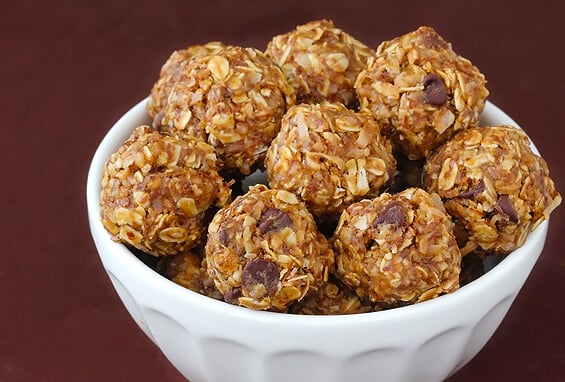 These my friends are No-Bake Energy Bites, but they could be called No-Bake Butt Bites and I would make them because they look amazing and No-Bake means almost No-Work.
Tomorrow morning is the 10K with Katie out in Sandy, Mountain Madness baby! I am going to wear my super awesome hydration belt because they only have two water stations planned and I know myself and I'll be dying without my aqua. For a normal person 2 would be plenty, but if you haven't caught on just yet, I am not a normal person. So yes Katie watch out for my irresistibleness (not actually a word) and if you make fun of me I won't share my aqua with you. Yes you do care.
Who else is running this weekend?
Do you need a lot of water when you are running or are you a running camel?